ABOUT US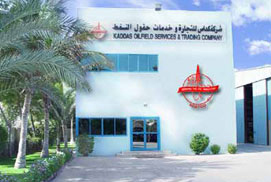 Kaddas Oilfield Services & Trading Co. LLC., commonly known as KOSTCO, established in the year 1977 at Abu Dhabi to cater to the needs of Petrochemical industry in UAE. Since then KOSTCO has developed a good rapport in the market and has become one of the most trusted and leading suppliers of bulk piping and flow line materials- Pipes, Pipe Fittings (BW/Forged) valves, Flanges, Fasteners, Sealing Gaskets Hoses, Hose Fittings etc for the Petrochemical, Power, Marine, Water and General Engineering industries in line with relevant international Codes/Standards and Customer requirements.
KOSTCO has its main office and warehouse facilities at Mussafah Industrial area, Abu Dhabi which is the main oil hub of U.A.E. and have similar facilities in Jebel Ali Free Zone (Dubai) and Sharjah which has a total land area of 35,500 square meters, of which 75 percent is covered by warehouse. This facilitated us to expand our business activities throughout the Middle East and the Asian continent.
KOSTCO acts as one of the major agent and stockiest in UAE for a diverse range of products from reputed manufacturers all over the world to cater the needs of its clients including well-known Petrochemical companies in the Middle East. Also the company has approved by Major Petrochemical/ Power Companies operating in Middle East for the Supply of various piping products comprise of Pipes, Pipe Fittings, Valves, Flanges, Gaskets and Fasteners.
KOSTCO is managed by a team of experienced and qualified professionals which coupled with its mission to keep abreast of the latest technological innovations worldwide and is adequately geared towards meeting the needs of its clients in the years to come. The company operates a quality management system in strict accordance with the standard ISO 9001:2015 & BS OHSAS 18001:2007 by TUV NORD.